SITEMAP | HOME | CONTACT | CURRENT WEATHER | GRAPHS & MONTHLY/YEARLY HIGHS & LOWS | ARCHIVES/RAIN DATA
Much to my chagrin, on Thurs., May 1, 2003, I discovered the wind direction has been in error, either since wind direction 1st showed Nov. 2002, or at some point after that. 76 degrees needs to be added to the readings up to May 1, 2003 at 2050.

Wind Direction Vane recalibrated August 3, 2005, it had drifted up to 45 degrees since July 18, 2005 (SE would show as E)....so wind direction data from July 19, 2005 - August 2, 2005 is probably unreliable

EQUIPMENT CHANGE: Effective October 12, 2007 at 0915: Smaller less sensitive Wind Cups replaced the larger cups on the Anemometer. Readings will show a reduction in the Average Wind Speed and Total Wind Run during times of intermittent low wind speeds compared to the previous readings. High Wind Speed should not be affected..
RAIN DATA: 1983-2017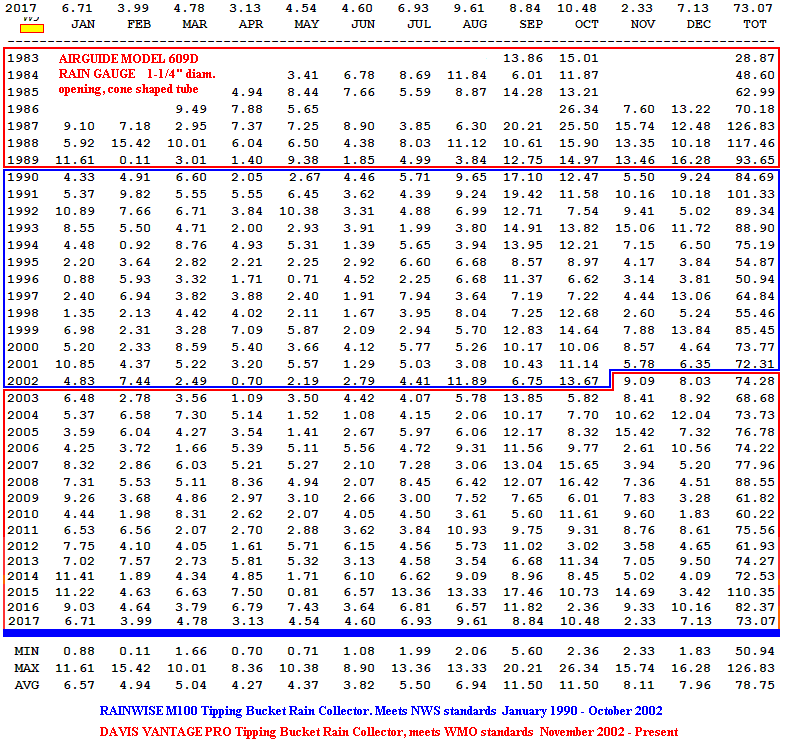 WARNINGS:

A) Many times the melted precipitation from snowfall during winter months is not properly represented until mid-November 2002 when the Davis Rain Collector with heater was put into operation.
B) The Airguide Model 609D is unduly affected by large droplet size, thus depending on type of rainfall, it may have considerably over-measured the rainfall at times.
Yes, February 1989 really did have only .11 inches of precipitation.
It was the driest February at the Juneau Airport
with .07 inches, since records began in 1943.
SITEMAP | HOME | CONTACT | CURRENT WEATHER | GRAPHS & MONTHLY/YEARLY HIGHS & LOWS | ARCHIVES/RAIN DATA