WEST JUNEAU WEATHER STATION
INSTALLATION
Davis Instruments Vantage Pro Weather Station - November 15, 2002 to February 19, 2014
Davis Instruments Vantage Pro 2 - Model 6152 - February 19, 2014 to present
Click links for specifications
3270 Nowell Avenue

Vantage Pro 2 installation virtually identical
to the original installation which is shown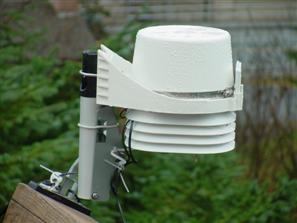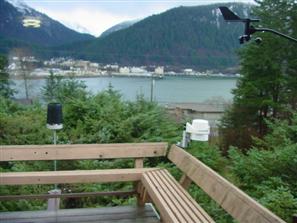 INTEGRATED SENSOR SUITE


The Integrated Sensor Suite (ISS) is hung over the edge of the seatback top using a "Quick Set" Fishing Rod Holder with the flush mount bracket, on top of a piece of rubber.
NEW RAIN COLLECTOR


On Monday, November 10, 2003 a new Davis Insruments Rain Collector II was put into operation at a point 4 feet to the northwest of the ISS.

This new collector with a rain collector heater installed, will ensure that no heat from the heater can influence the temperature sensor of the ISS. The 40' cable was shortened to roughly 8'-10' by cutting out a section of cable and splicing the portion with the RJ-11 modular connector to the cable from the Rain Collector II. The Rain Collector II cable has 4 wires with the red and black connected together and the yellow and green wires connected together to form 2 conductors. The ISS Rain Collector however does not use the black wire, so at the splice, the black conductor was not connected to the black/red pair from the Rain Collector II. Modifications were necessary because without either one, or both, the new Rain Collector would not function with the ISS.

(I'm not sure which modification made the difference or if both were needed; it could be the resistance of the 40' cable was too much for the ISS, or the black conductor of the RJ-11 plug while in the RJ-45 jack on the SIM in the ISS was not compatible with the circuitry of the board, or both.)

The cone of the Rain Collector of the ISS was removed and replaced with a plastic cap made from the bottom of a plastic pail, painted white, and held in place with a stainless steel hose clamp (strap of a 6'' hose clamp had to be extended by riveting a portion of another clamp to the 6'' clamp).




ANEMOMETER & WIND VANE
The Anemometer is 29 feet above grade at the top of an 8 foot high 3/4" galvanized steel water pipe with a 90 degree elbow at the bottom and a short length of pipe to clear the 2 foot overhang. This pipe screws into a flange on the wall. The pipe can be rotated downwards for maintenance.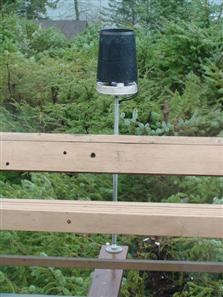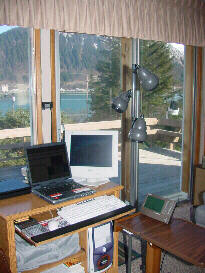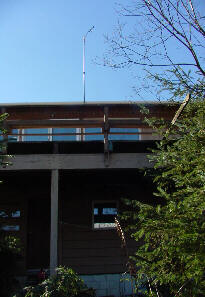 The Vantage Pro Weather Station was purchased through the
Mt. Washington Observatory Gift Shop, North Conway, N.H.




The Vantage Pro 2 Weather Station was

purchased directly from




INSTRUMENTS