WEST JUNEAU WEEKLY PICTURE
Rock Doves all in a row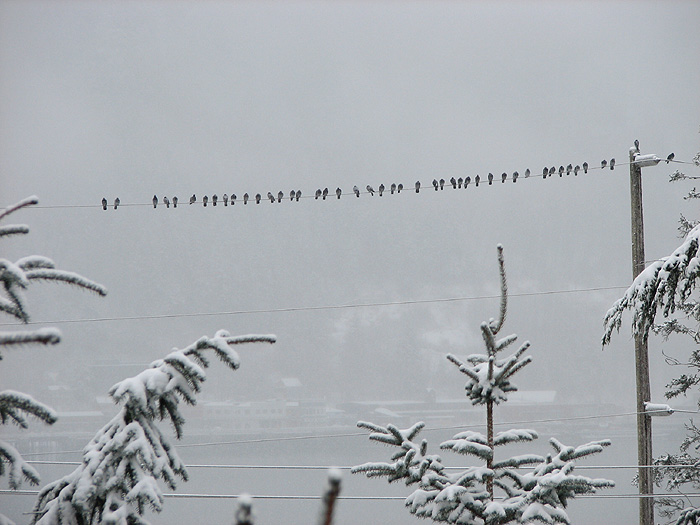 In the background: Gastineau Channel – Juneau Harbor,
the South Franklin Street waterfront, and Mt. Roberts.
The powerlines with the visible insulators haven't been used by the power company since July 10, 1983 after the 1982 West Juneau Substation was converted to 69KV. This section of line is on 60 ft. to 70 ft. (above ground) tall cedar poles and was constructed in May 1981 because of the reconstruction and widening of Douglas Highway that year which pushed the powerline out of the State right-of-way. This resulted in dramatically taller poles than the old western red cedar poles used for the 23KV copper transmission line to Douglas that was originally built in 1910 to carry power from the Sheep Creek hydroelectric powerhouse, and in 1914 to also carry power from the Nugget Creek hydroelectric powerhouse by the Mendenhall Glacier, to the Treadwell Mines. The current line has been available as a last resort backup for the distribution line on the upper side of Douglas Highway since May 1986 but so far has not been used.
Picture by David Kent, 12:09 p.m. AST, January 30, 2013, © 2013